Orange County Rail Infrastructure Defense Against Climate Change Plan
SB1 Adaptation Planning Grant: Initial Case Study
Challenge: Developing plans and strategies
Summary
The Orange County Rail Infrastructure Defense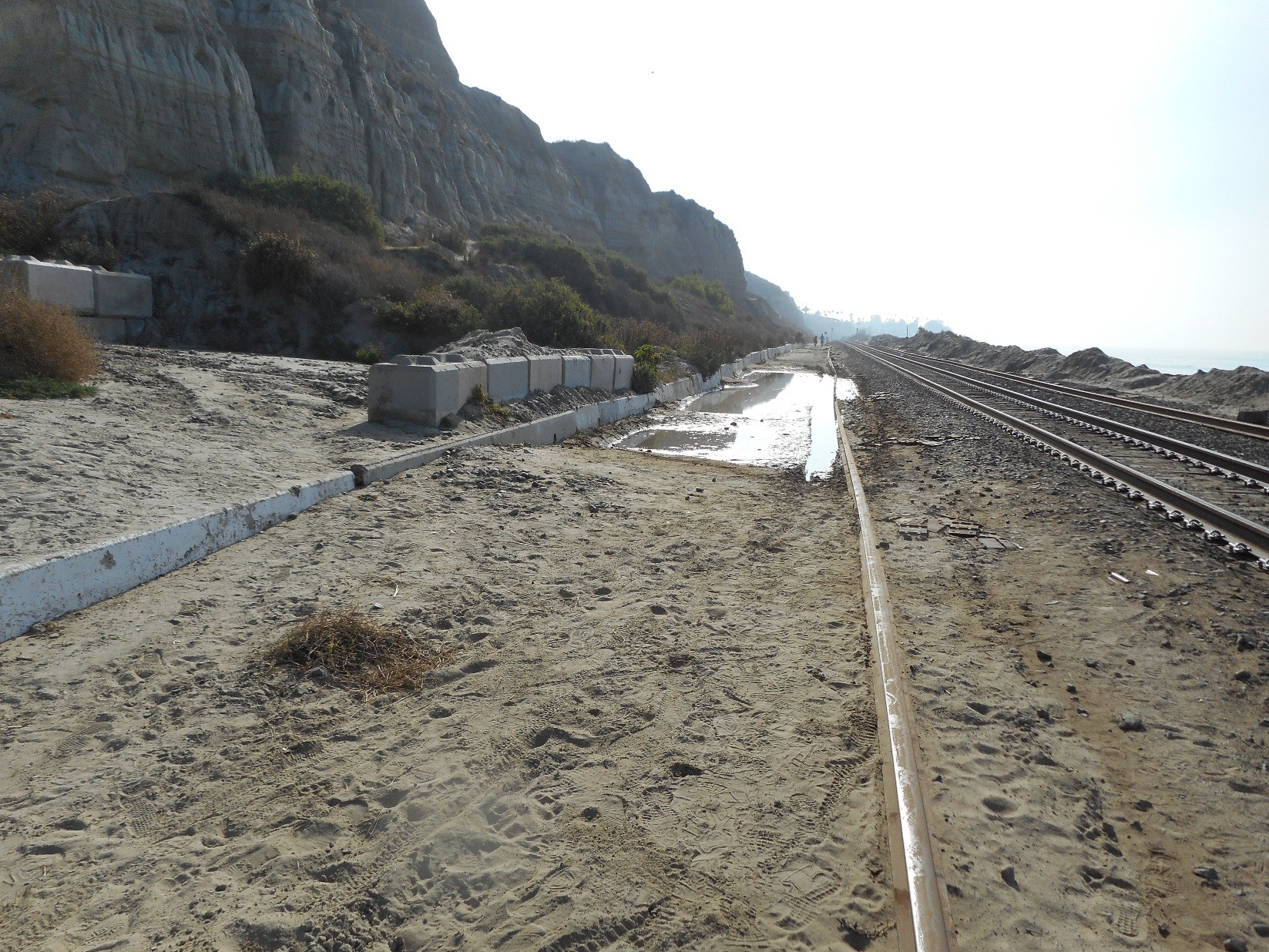 against Climate Change Plan (Plan) will identify strategies to evaluate the negative effects of storm activity, sea levels, temperature, and other climate change stressors on the Orange County Transportation Authority (OCTA)-owned rail right-of-way (ROW) and develop strategies to ensure robust and resilient transportation assets and services. The Plan will involve a comprehensive assessment of the rail corridor south of the City of Irvine in Orange County and identify problematic locations, with near-term to long-term mitigation measures and costs. The Plan will help determine the relative merits of adaptation and mitigation measures in the region and corridor. The Plan will also identify opportunities and challenges to improve service, operation, and infrastructure to better withstand climate changes.
More than two thirds of the corridor is located in or near a Disadvantaged Community or Low-Income (DAC-LI) census tract, with approximately 270 DAC-LI census tracts within two miles of the corridor. In addition, of the 12 stations in Orange County, ten are in or near DAC-LI, providing service to these communities. Certain census tracts have up to 49 percent transit dependency. If the rail line were impacted, it would severely hinder transportation for these communities.
The project will begin on October 1, 2018 and the duration is anticipated to be 27 months. The key project deliverables will consist of field assessment matrices including inventory, parameters and deficiencies, cost estimates, a technical memorandum with summary and recommendations, and a final report. The final report will assist OCTA in planning for future climate change related mitigation strategies.
Lead Agency and Partnerships
OCTA is the lead agency and will collaborate with other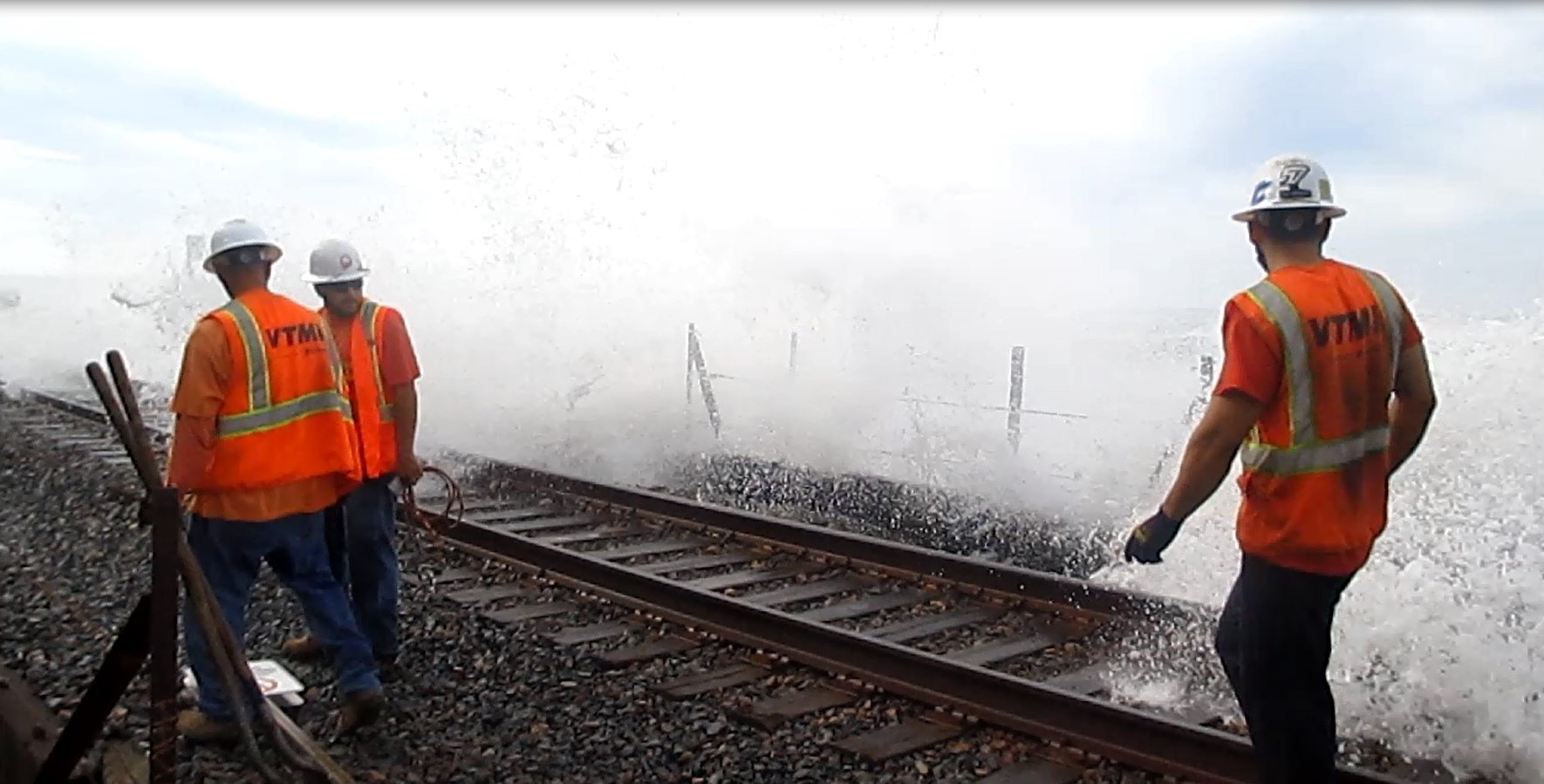 key stakeholders in the development of this project.
Southern California Regional Rail Authority (SCRRA) is a key partner, responsible for operating of the system and maintaining the track, signals, structures, and most of the ROW. SCRRA knows key areas of concerns and is key in providing safe access to the railroad ROW for the assessment team.
Caltrans is a key partner in the development of the initial scope of work and cost estimates, providing project scope feedback and guiding implementation of grant goals and requirements.
OCTA may seek Local Cities and agencies' help in obtaining necessary data and relevant input.
OCTA may also solicit help from local academic institutions to obtain research data and other applicable data to assist in analysis of the information gathered.
Drivers
In December 2010, a rain storm in the City of San Clemente caused mudslides that destroyed a section of the OCTA-owned Los Angeles-San Diego-San Luis Obispo (LOSSAN) rail corridor. The event disabled rail service between Orange County and San Diego, forcing rail users to use other modes of transportation in the congested Interstate 5 (I-5) corridor.
Driven by both the outcome of the December 2010 weather event and the funding opportunity presented for preventive planning and improvement through the Caltrans Adaptation Planning Grant Program, OCTA intends to proactively identify potential problems on the OCTA-owned Orange and Olive subdivisions in Orange County. Having identified potential stressors, OCTA can develop informed solutions to improve and protect the rail corridor from impacts of climate change, such as storm activity, rising sea levels, temperature, and other climate change stressors. Focus areas include all Orange County stations and OCTA-owned rail right-of-way south of the City of Irvine.
Engagement Process
The Plan will include a project development team,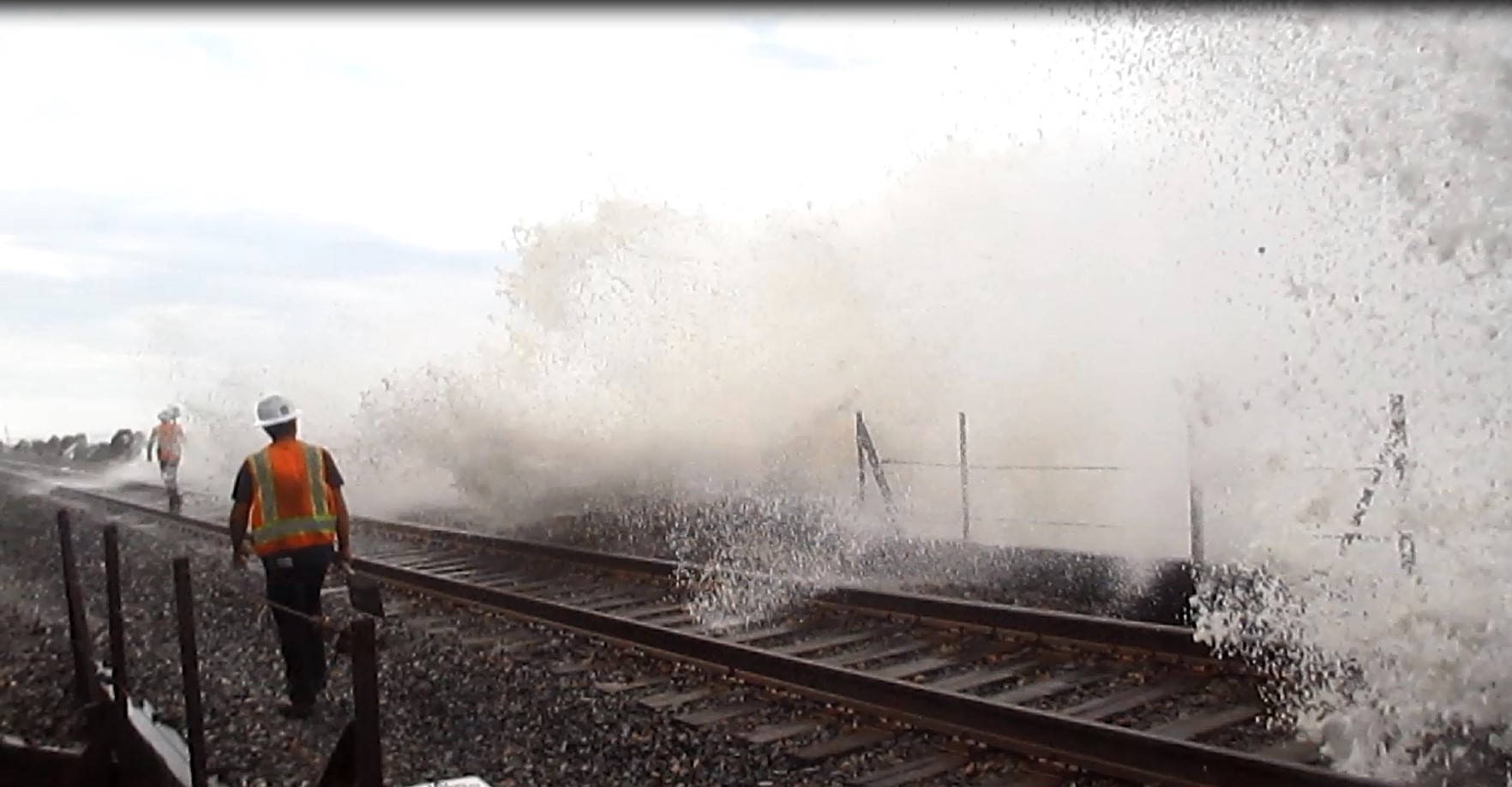 which will include the regional rail operator, SCRRA, Caltrans, local agencies cities, and academic institutions. The Plan will also be coordinated with various stakeholders in the region, including the Southern California Association of Governments (SCAG), OCTA Board members, local congressional districts, users of the service and the public, including disadvantaged communities. Furthermore, OCTA commits to holding public outreach efforts in low income, highly transit dependent communities.
OCTA plans to assemble a Project Working Group and conduct two workshops to gather public input.
Project Working Group: Transit agency representatives, representatives of a local academic institution, and representatives of local cities and county will be invited to join a project working group responsible for providing input and reviewing findings.
Workshop 1: Staff and consultants will host a public workshop to outline the study, define its parameters, inform the community of project opportunities and constraints, and solicit opinions from the public and stakeholders regarding asset inventory and asset criticality designation methodology. This meeting will be held at two locations within a low income, highly transit dependent community with a low climate adaptation capacity.
Workshop 2: Staff and Consultants will host a public workshop to present draft study results, including an overview of findings from available climate models, forecasts, and data reviewing the methodology for assessing vulnerability and risk. Similar to the first workshop, this meeting will be held at two locations, within a low income, highly transit dependent community judged to have a low climate adaptation capacity.
The first workshop may assist the project team in refining the study elements and methodology. The second workshop will likely help the public understand any potential mitigations to address climate change concerns within the rail ROW and at stations.
Climate Impact Area
This project will respond to storm activity, rising sea levels, temperature, and other climate change stressors.
The Plan will conduct a comprehensive assessment of the southern rail corridor in Orange County and identify problematic locations, with near-term to long-term mitigation measures, and costs. The Plan will assist in the determination of mitigation measures that are most cost effective and beneficial to the region and corridor.
Quarterly Reports will be submitted to Caltrans District Staff providing a summary of project progress. Other deliverables include meeting minutes and invoice packages.
Funding Source
The total project cost is $650,792, including $461,771 in Caltrans Adaptation Planning Grants funds, $94,421 in local cash match, and $94,600 in local in-kind match. That is, 83.02% grant contribution and 16.98% local contribution.
| | | |
| --- | --- | --- |
| Contribution Type | Amount | Share |
| SB1 Caltrans Adaptation Planning Grant | $461,771 | 83% |
| Local Cash Match / In-Kind Match | $189,021 | 17% |
| Total | $650,792 | 100% |
Research and Data
The p

rimary tool for data collection will be field assessments of existing station amenities.

Data may come from local, state, and/or federal agencies.

Agencies may include the National Oceanic and Atmospheric Administration (NOAA) at

www.weather.gov

; State of California at

www.storms.ca.gov

; Orange County at

www.ocwatersheds.com

; and other research academic institutions.

The

OCTA Non-Motorized Metrolink Accessibility Strategy Report – June 28, 2013
Link - http://www.dot.ca.gov/hq/tpp/offices/orip/Grants/final_products/2014/7_8SCAGOCTANonmotorizedMetrolinkAccessStrat2013.pdf
Challenges
There are a few major challenges anticipated. Initially to identify the deficiencies in the field, the assessment team must work in the busy railroad ROW with up to 73 trains on weekdays. To mitigate this challenge, OCTA has proposed the possibility of scheduling team visits to the railroad ROW on weekends, with SCRRA support in areas where the train frequency is reduced to 40 trains.
OCTA also anticipates challenges finding and utilizing relevant data from various sources. Some data will likely contain more national-level information versus regional or local specific data. To mitigate this issue, analysis may require normalization of the data gathered and data extrapolation for the project areas of interest.
Outcomes
A final report, including a summary of the findings of the study and recommendations, will also be prepared. This report will be a guiding document for:
Implementation strategies or repairs to reduce the risk for mudslides, flooding and coastal surge during storm events.

Enhancement of vegetation management and sustainable vegetation strategy for periods of drought and high precipitation.

Increased amenities at stations for passengers, such as shelters and drinking functions etc.
Replicability
Many aspects of this project may be replicated in other communities. This project mainly focuses on the railroad corridor and the stations. The remaining project methodology could be applied more broadly to an entire city or could be applied to a specific building such as a historic landmark building near the coast. This project could provide a kit-of-parts to expand or shrink as necessary to meet the project goals.

Further Information
Louis Zhao

Section Manager, Discretionary Funding Programs

Orange County Transportation Authority

(714) 560 - 5494

Jason Lee

Project Manager, Rail Programs

Orange County Transportation Authority

(714) 560 - 5833
Attachments: