Case Studies
ICARP Case Studies
Resilient Inland Empire - Regional Climate Adaptation Toolkit
Resilient Inland Empire - Regional Climate Adaptation Toolkit
SB1 Adaptation Planning Grant: Final Case Study
Summary
The Western Riverside Council of Governments (WRCOG) and San Bernardino County Transportation Agency (SBCTA) developed a Regional Climate Adaptation Toolkit (Toolkit) to assist local jurisdictions in planning for climate adaptation and resiliency for transportation infrastructure and overall community resilience at the local level. WRCOG and SBCTA partnered to develop the following:
The Inland Southern California Climate Collaborative (ISC3);
Transportation and Community Vulnerability Assessments for both subregions;
City-Level Climate-Related Transportation Hazards and Evacuation Maps;
Climate Resilient Transportation Infrastructure Guidebook; and
Regional Climate Adaptation & Resiliency Template.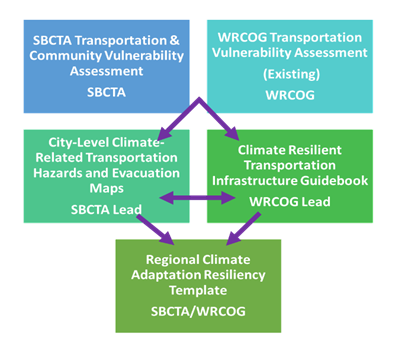 The 22-month project was initiated in May 2018 and concluded in February 2020.
The Toolkit addresses disadvantaged communities by removing financial and capacity barriers for low-income and multilingual communities to develop climate resiliency strategies and planning documents. This is achieved by providing templates, maps, and strategies unique to the region that can be easily adapted for each local jurisdiction.
The project supports California's Climate Strategy, including Executive Order S-13-08, Executive Order B-30-15, California Transportation Plan (CTP) 2040, Regional Transportation Plans, General Plan Guidelines, and Senate Bill (SB) 379 and SB 1000. The project meets objectives of these State policies and guides by protecting California's most vulnerable populations, prioritizing green infrastructure solutions, addressing sustainability of the regional transportation system, providing data, tools, and guidance to support efforts to reduce climate risk, and identifying development strategies to reduce GHG emissions through smart infrastructure and non-motorized transportation routes.
Project Flowchart of Deliverables
Lead Agency and Partners
This Project demonstrates on-going collaboration and partnerships between sectors and jurisdictions across levels of government at a regional scale. The proposed project is a collaboration among state (CalTrans and the Local Government Commission (LGC)), regional (WRCOG and SBCTA), and local jurisdictions.
Drivers
This project was driven by the necessity to address two key deficiencies and gaps in planning in the region: capacity and resource constraints to local transportation climate adaptation planning efforts, and unique geographic and economic factors regarding climate resiliency.
The State has demonstrated strong leadership in advancing climate resilience by setting clear expectations for State agencies to consider climate change, requiring local agencies to develop adaptation strategies through SB 379/1000, and providing a multitude of resources. However, progress has been uneven at the local level. Many jurisdictions continue to face capacity and resource constraints to meaningfully address climate change risks and adaptation strategies related to transportation.
Furthermore, this region is located in the desert, and is characterized by hot and dry summers, with an extreme heat threshold of 100°F, which is expected to rise with climate change. The diversity in socioeconomic conditions across the counties creates a disparity among communities' abilities to adapt to climate-related hazards. Significant portions of the project area are among the most disadvantaged in the state (additional information below).
The Caltrans Adaptation Planning Grant Program provided the opportunity for WRCOG and SBCTA to develop a set of tools that will make it simple and low-cost for jurisdictions to comply with SB 379 and SB 1000 requirements while enhancing jurisdictions' abilities to provide high-quality plans and documents, leading to better policy decisions and efficiency in jurisdictional planning. The Project assists all WRCOG and SBCTA member agencies, but is particularly important for those disadvantaged communities which are especially vulnerable to the impacts of climate change.
Engagement Process
WRCOG and SBCTA serve 45 jurisdictions in Western Riverside and San Bernardino Counties where a large percentage of the local population are disadvantaged communities (DACs) with high rates of unemployment and poverty. These DACs are the most vulnerable to the effects of climate change.
This project included collaboration and an integrated approach involving robust community outreach and education to ensure communities with the highest vulnerability were meaningfully involved in the project. As planned, the project formed an organizing committee composed of a diverse set of stakeholders to lead development of ISC3. Originally this body was envisioned to lead ISC3's formation and then pivot to support all engagement, but ISC3 experienced unanticipated hurdles to launch, so the project team led an alternate outreach initiative that included targeted interviews with community-based organizations as a precursor to hosting a series of local equity roundtables with community leaders. Representatives from the region's vulnerable populations including public, private, nonprofit, tribal, and faith-based leaders were engaged to better understand the needs of local communities and ensure development of locally-appropriate toolkit elements (technical assistance) as well as grow a rich membership base for ISC3—the project's living, sustaining element (education, training, and technical assistance).
These efforts were complemented with regular engagement with the staff from each of WRCOG's and SBCTA's member jurisdictions.
Climate Impact Area
The WRCOG and SBCTA vulnerability assessments together identified ten primary climate change exposures for the region: Agricultural Pests and Diseases; Air Quality, Human Health, and Ecological Hazards; Drought; Extreme Heat; Extreme Wind; Flooding; Human Health Hazards; Landslides and mudslides; Severe Weather; Wildfire; Extreme Heat, Drought, Wildfire, and Flooding. The Toolkit addresses these risks through resources (described under "Outcomes" below).
The Toolkit draws on a multitude of existing resources including WRCOG's subregional Climate Action/Adaptation Plan and SBCTA's Regional Greenhouse Gas Reduction Plan.
Funding Source
The total project cost was estimated to be $772,000 and was largely funded by CalTrans through an Adaptation Planning grant for $683,431. WRCOG and SBCTA provided a local cash match of $88,546 and additional in-kind staff support, as needed.
Research and Data
The Project Team utilized State-developed tools including Cal-Adapt 2.0, the Adaptation Planning Guide, the California Fourth Climate Change Assessment and Safeguarding California to leverage the latest best practice resources for climate resiliency strategies and consideration. Additional resources are cited within the components of the Toolkit.
Challenges
Two main challenges were identified at the project outset, which the work program was developed to specifically address. One additional significant challenge arose which was not anticipated.
Anticipated challenges:
Limited Time and Resources for Implementation - Many jurisdictions have developed detailed CAPs and adaptation plans, only to find they lack the resources and tools needed for implementation, and the plans simply sit on the shelf. To avoid this outcome, we are developing tools with an eye toward implementation, engaging with local stakeholders, drawing on lessons learned from our work in other jurisdictions, and utilizing best practices provided by the State and others.
Data – From past experience in preparing GHG inventories, we learned data is not always readily available and will take longer than expected to obtain. We have allowed sufficient time in our schedule for the data gathering process and proactively identified sources upfront in the grant writing process.
Unanticipated challenge:
Collaborative support - The project's engagement plan was designed to leverage the network to be established through ISC3's development, but the collaborative struggled to gain sufficient momentum to launch as planned. This required the project partners to be nimble and quickly re-design the approach to both establishing the collaborative and implementing outreach activities.
Outcomes
This Project includes a Toolkit to provide easy-to-use resources for San Bernardino and Western Riverside local jurisdictions, all to be accessible at http://www.wrcog.us/285/Resilient-IE, enabling them to prepare city-level transportation climate resiliency strategies and plans to help prevent the loss of life and destruction witnessed in recent years elsewhere across the state. Deliverables included:
Formation of the Inland Southern California Climate Collaborative (ISC3) as a local branch of the Alliance of Regional Collaboratives for Climate Adaptation (ARCCA). ARCCA is a network of leading regional collaboratives across California that work together to advance climate adaptation statewide and increase local capacity to build community resilience. Originally envisioned as a collaborative serving only the WRCOG and SBCTA region, the ISC3 organizing committee was passionate about engaging the Coachella Valley to integrate all Riverside County, as well as Imperial County. The areas were embraced by ISC3 siting the considerable need due to high concentrations of DAC's and the opportunity to unify the broader region, amplifying the collective powers. Through ISC3, local and regional representatives will connect with peers across the state to exchange knowledge, engage in targeted problem solving, and implement joint campaigns for climate resiliency, particularly as it pertains to the transportation system, effectively breaking down silos across sectors and jurisdictions.

The updated WRCOG subregional Transportation and Community Vulnerability Assessment (VA) and new San Bernardino County VA identified each subregion's climate exposures and vulnerable assets, including transportation assets, and offer a comprehensive analysis of risks and appropriate adaptation strategies to serve as a stand-alone resource for local jurisdictions as well as inform the development of the other Toolkit elements. As an extension of the VAs, which use traditional analysis methods, the project included a pilot analysis that follows a risk-based approach to incorporating considerations for potential climate-related risks to transportation assets to better inform planning and the prioritization of funding. CalTrans awarded WRCOG and SBCTA additional funds to expand the pilot in a subsequent effort.

The Climate-Related Transportation Hazards and Evacuation Maps provide a portfolio of city-level maps that can be used for a variety of climate adaptation and resiliency planning efforts, including insertion into local hazard mitigation plans, safety elements of the General Plan, or local adaptation plans/strategies, and aids in complying with the newly enacted state laws, AB 747 and SB 99 (2019).

The Climate Resilient Transportation Infrastructure Guidebook provides strategies using green streets infrastructure to mitigate and provide resiliency to climate change effects on the transportation system. Along with the maps (see #3), it provides a comprehensive city-by-city view of climate-related hazards, alternative routes, and green infrastructure mitigation and resiliency options for the transportation system for Western Riverside and San Bernardino Counties. Importantly, the maps help to identify where additional redundancies are needed in local evacuation routes and prioritizing future investments.

The Regional Climate Adaptation and Resiliency Template is the final component of the Toolkit, and is designed for jurisdictions to incorporate into their General Plans or for other policy applications.
Replicability
The Toolkit of climate impact and resiliency resources will serve as a model for other jurisdictions and regions throughout the state for climate resiliency. All components can be accessed on the project website and replicated in other communities.
Additional Resources
Resilient Inland Empire website
WRCOG website
SBCTA website
FHWA Adaptation Decision Making Assessment Process (ADAP)
Alliance of Regional Collaboratives for Climate Adaptation (ARCCA)
Further Information
For more information, please contact Christopher Tzeng, Program Manager with the Western Riverside Council of Governments at ctzeng@wrcog.us or (951) 405-6711