Capital Region Transportation Sector: Urban Heat Island Reduction Plan
SB1 Adaptation Planning Grant: Initial Case Study
Challenge Area: Developing plans and strategies
Summary
Extreme heat and the urban heat island (UHI) effect are critical climate change challenges facing the Sacramento region. The transportation sector is a key contributor to the UHI effect and is itself vulnerable to heat. This project will develop a model analyzing Sacramento's UHI effect as well as the heat reduction potential of selected mitigation measures. The results, in combination with community input, will be translated into strategies and recommendations for transportation plans, projects, and design guidelines, ensuring that heat resilience is built into all investments. The goal is to provide a blueprint to reduce UHI and greenhouse gas (GHG) emissions while prolonging transportation infrastructure lifespan, supporting active transportation, and improving air quality.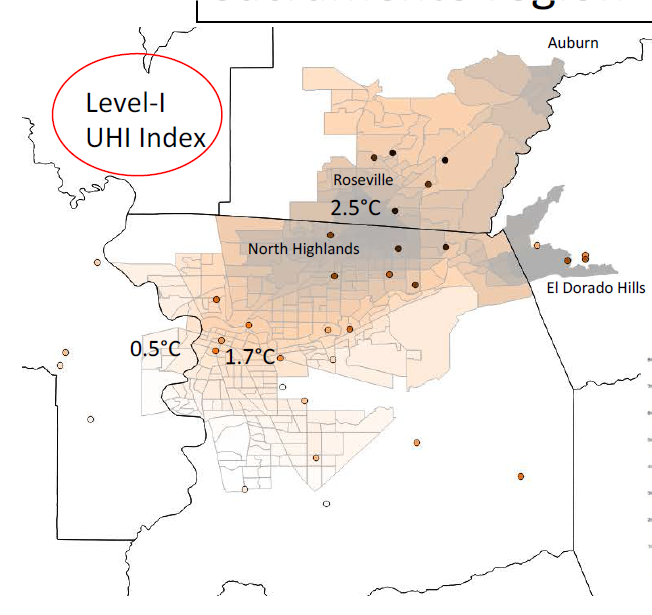 The Level 1 Urban Heat Island effect map from CalEPA's 2015 study.
Note that 2.5°C is equivalent to 4.5°F, and 1.7°C is 3.1°F.
This project supports California's climate mitigation and adaptation goals as well as its vision of a resilient, multi-modal transportation system (CA Transportation Plan 2040). Planning for UHI reduction can achieve regional cooling that benefits public health, water and energy savings, air quality, stormwater absorption, groundwater recharge, and improved public spaces. As heat increases, street and transit design improvements – such as trees, water fountains, and shaded bus shelters – will be critical for pedestrians, cyclists, and transit users.
Community engagement, particularly with under-resourced neighborhoods, is a core part of the project. Project staff will seek input from communities on their transportation needs, concerns, and priorities, and staff will incorporate feedback into plans and recommendations.
Lead Agency and Partnerships
The Sacramento Metropolitan Air Quality Management District (SMAQMD) is the lead agency, and the Local Government Commission (LGC) is the sub-applicant. Other partners include Sacramento Municipal Utility District (SMUD), which helped to develop the concept and will provide support, as well as the Capital Region Climate Readiness Collaborative (CRCRC) and Placer County Air Pollution Control District (PCAPCD). Participating agencies include El Dorado County, Yolo County, City of Davis, City of Sacramento, and Sacramento County.
Drivers
The Sacramento region experiences heat-related deaths and hospital visits in excess of the state average (CDPH), while CalEPA's statewide Urban Heat Island Index (2015) provided an initial – but partial – analysis of the regional UHI effect. The CRCRC, of which SMAQMD is a member, proposed to build upon this study for the entire region.
Heat-related Emergency Department Visits and Hospitalizations for the Capital Region, 2002-2012

Engagement Process
Many populations face greater vulnerabilities to heat, such as the elderly, the young, outdoor workers, and people with pre-existing health conditions, without vehicle access, experiencing homelessness, living in sub-standard housing, or facing financial challenges. Finally, not everyone will feel comfortable or safe accessing cooling centers or other government services.
An inclusive engagement process will help the project incorporate community needs and develop recommendations to improve neighborhood design and transportation access. As the 1995 Chicago heat wave showed, neighborhoods with strong social infrastructure and public spaces experienced far fewer deaths than neighborhoods with similar incomes but blighted public spaces.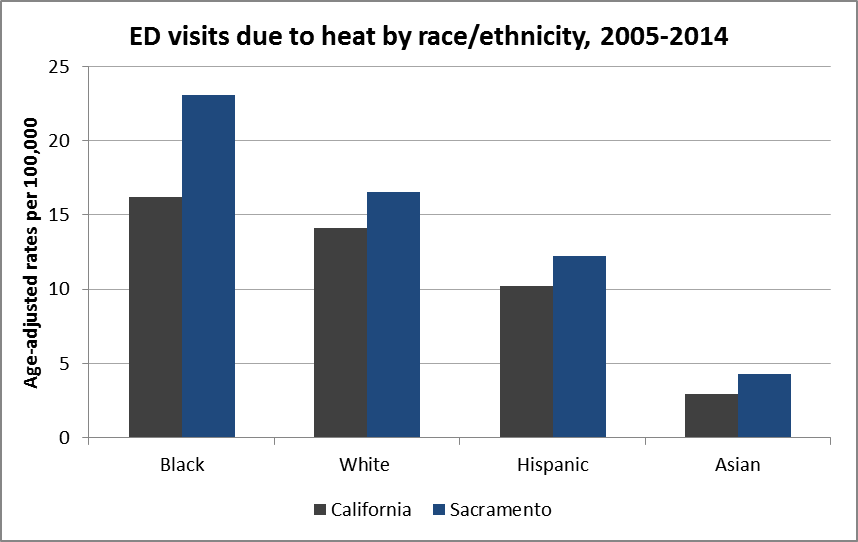 We will conduct outreach in under-resourced, heat-vulnerable communities to understand their needs and priorities for neighborhood improvements and transportation, as well as to provide education about heat and health risks. We will provide transportation stipends, food, and childcare, and coordinate with existing events to improve accessibility. Outcomes will be a report summarizing community feedback for inclusion into the final plan and recommendations.
Other stakeholders include local jurisdictions and agencies, SMUD, communities, and community groups. Technical experts, agency staff, and community members will form a technical advisory committee to provide review, technical assistance, and guidance. The project team will also engage with related projects, such as the City of Sacramento's Electric Vehicle (EV) Ready Communities Challenge grant (CEC), SMAQMD's EV Readiness Plan grant (CEC), and SACOG's SB1 project.
Climate Impact Area
Extreme heat can deteriorate pavements and other transportation infrastructure, incurring repair and maintenance costs, as well as increased delays, disruptions, and GHG emissions from repair work. Heat is also a serious health risk, especially for people facing limited mobility choices.
Indicators of success in addressing this climate challenge will include the number of plans and projects that are updated with heat mitigation measures and community-supported recommendations. The project will indirectly reduce GHG emissions through reducing cooling loads, prolonging pavement and infrastructure lifespan, and encouraging street design improvements to facilitate active transportation.
Funding Source
This project is funded by Caltrans's SB1 Adaptation Planning Grant, which awarded SMAQMD $487,775 in December 2017. Local match (both cash and in-kind) will include $51,786.40 from SMAQMD, $12,950 from LGC, $12,000 from PCAPCD, and $40,515 from SMUD.
Research and Data
The project will generate original research using existing data on land use, land cover, and weather. Results will be publicly available in the form of Google Earth and GIS data.
Challenges
The grant-mandated timeline will be a challenge, which we will address through planning and setting milestones. Another potential challenge will be in avoiding community fatigue resulting from multiple outreach requests from other agencies (e.g., around SB1000 or AB617). Solutions include conducting listening sessions, partnering with community groups and other organizations to create more enriching events, and providing stipends, food, and childcare. Finally, there may be challenges for local transportation and planning departments to adopt our recommendations; thus, we have invited them to participate from the beginning to ensure buy-in and engagement.
Outcomes
Outcomes will include a UHI model, analysis of heat mitigation measures, a community priorities report, a heat pollution reduction plan synthesizing results into recommended strategies and actions, and incorporation of recommendations into transportation plans, projects, guidelines, etc. The ultimate outcome will be an actionable blueprint to reduce regional UHI through improvements in the transportation sector and street design, prioritizing vulnerable communities.
After project conclusion, next steps will be for participating jurisdictions to begin implementing transportation projects and plans with new heat-resilient measures, resulting in a gradual reduction of UHI. The project would ideally help to elevate heat as a critical challenge, spurring additional programs, projects, and ordinances to build heat resilience.
Replicability
This project is highly replicable. Because the UHI effect varies regionally, a localized UHI model can help jurisdictions determine the most effective locations to deploy cooling measures, while accounting for local community preferences. Our recommendations can also be adopted by other jurisdictions and provide a basis for model code for heat-resilient transportation infrastructure.
Additional Resources
Further Information
Please contact Shelley Jiang (sjiang@airquality.org, 916.874.4885), climate change program coordinator, at SMAQMD.