City of Alameda - Local Action Plan for Climate Protection Update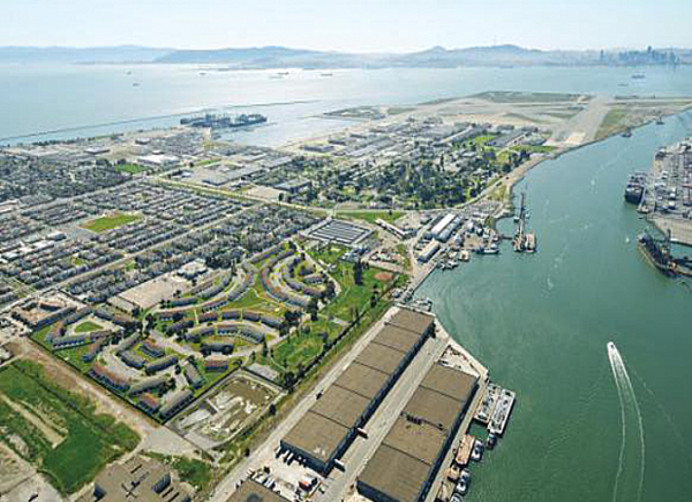 SB1 Adaptation Planning Grant: Initial Case Study
Challenge: Developing plans and strategies
Brief Summary
The City of Alameda is updating its 2008 Local Action Plan for Climate Protection, which will include climate adaptation. Taking practical steps to manage risks from climate change impacts is critical to protecting and strengthening the City of Alameda. The plan update will identify strategies to increase both the physical and social resilience of the community's transportation system to climate change impacts. Work commenced in May 2018 and will be complete by April 2019 – concluding with City Council adoption of the updated plan.
Goals of the project include but are not limited to:
Analysis of existing climate change vulnerability information to identify at-risk assets, resources, and populations within the City;
Identification of interdependencies between infrastructure systems, including transportation and community services to highlight vulnerable areas with the greatest possible consequences if impacted.
Development of strategies to reduce GHG emissions and adapt to climate change in ways that improve quality of life, build prosperity, and increase resiliency.
Integration of GHG mitigation measures and climate adaptation strategies into a visual, user-friendly plan.
The project is relevant to Section 16321 of Senate Bill 1 (SB 1) – the Road Repair and Accountability Act of 2017, a transportation funding bill with monies appropriated for local agencies for adaptation planning. The main project deliverable is the Final Climate Action Plan update, and other deliverables are focused on efforts to deliver this final update.
Lead Agency and Partnerships
The City of Alameda will serve as lead agency for the Climate Action Plan update with ERG, a hired consultant with applicable technical expertise and demonstrated experience with community engagement. Partners include Caltrans, Bay Conservation and Development Commission (BCDC), and Community Action for a Sustainable Alameda (CASA). BCDC is responsible for assisting the City in its use of the Adapting to Rising Tides planning process. CASA is responsible for supporting outreach efforts for the Plan.
Drivers
The Alameda City Council has significant political will around both reducing GHG emissions and improving climate protection, and as such in 2017, the City Council directed staff to update the Local Action Plan for Climate Protection. Staff recommended the update include adaptation, to identify risks and opportunities related to climate change, particularly around sea level rise risks to infrastructure. Upper end forecasts of sea level rise by the end of the century indicate that large swaths of the island would be permanently inundated, devastating transit dependent communities. Even with conservative estimates, temporary surges caused by El Nino and extreme weather events, which are anticipated to be exacerbated by climate change, along with annual King tides, could raise groundwater levels and sea levels around the island by several feet, causing flooding on large portions of the City's transportation infrastructure. Adaptation action must be taken to improve resilience.
The Caltrans Adaptation Planning Grant Program made available seven million dollars for the Fiscal Year (FY) 2017-18 grant cycle. The City of Alameda applied for and received a grant in the amount of $236,375, with a local match of $30,625 - bringing the total project cost to $267,000.
Engagement Process
Stakeholders in the engagement process include entities such as Caltrans, East Bay Municipal Utility District, East Bay Regional Parks District, BAAQMD, Port of Oakland, City of Oakland, Alameda Municipal Power, CASA, and other local community groups. The vulnerable populations benefited by this project include all residents of Alameda, because of the island's roadway, tunnel, and bridge infrastructure predicted to be compromised by rising sea levels. All egress routes for Bay Farm Island are entirely blocked under elevated sea level conditions. For disadvantaged areas within the City, such as Alameda Point, the City will partner with Alameda Point Collaborative, a supportive housing community that helps families and individuals break the cycle of homelessness and poverty.
The City intends to gather significant public input through three interactive community workshops that will be the driving factor of the planning process. These workshops will provide co-benefits such as outreach and discussion with vulnerable neighborhoods, including transit-dependent populations and disadvantaged communities. In addition, stakeholders will offer technical assistance as well as education on current vulnerabilities and any relevant initiatives. They will help vet potential strategies and increase the likelihood of successful adoption and implementation.
The three community workshops will be structured with the first focused on project goals and objectives, the second on the community-preferred priorities and alternatives for GHG mitigation and adaptation strategies, and the third on public comment on the draft Climate Action Plan update. The community will also identify adaptation pilot projects to pilot and launch.
The anticipated outcomes of the engagement process include community input on goals and objectives of the project, identification of priority strategies and alternatives, and identification of pilot projects.
Climate Impact Area
This project will primarily consider the climate impact of flooding and sea level rise (tidal/storm, stormwater, groundwater sources, levee breaches). It will also consider extreme heat, drought, and the effects of being downwind from fire-prone areas, as well as the nexus with earthquakes as appropriate. This project will evaluate the impacts of flooding and sea level rise scenarios, including predicted reduced access to transit, impacts to transportation infrastructure and open space, loss of circulation for emergency vehicles, commuting, and commerce, lack of access to hospitals, lack of functional schools/education, lack of access from mutual aid outside of the City, permanent loss of displaced population, industry, and commerce, and health concerns from contaminated flood water and groundwater.
The project will build upon completed works, such as the City's 2016 Local Hazard Mitigation Plan and the 2014 Adapting to Rising Tides Study, fill knowledge gaps, and yield an implementable list of actions to increase resiliency. The indicators to measure success will be developed during the planning process, and greenhouse gas reduction will be fully integrated into the process.
Funding Source
The adaptation components of the Climate Action and Adaptation Plan are funded by a Caltrans SB1 adaptation planning grant. The greenhouse gas reduction components of the Plan are funded by various funds within the City of Alameda. The total project budget is currently $300,000.
Research and Data
The project draws on many planning resources, including Cal Adapt, Safeguarding California, OPC Sea Level Rise Guidance, Adaptation Planning Guide, Adapting to Rising Tide, among others. The metrics used to track progress will be decided at the beginning of the planning process.
Challenges
One anticipated challenge is completing the plan, which includes extensive community and stakeholder outreach, within the 12-month timeline. We intend to manage this challenge with a detailed schedule of events, milestones, and deliverables to ensure timely success. Another challenge is developing adaptation strategies that deal with uncertain future scenarios, require significant investment, and have emotional content for those affected. Regarding uncertain and evolving projections, the City will consider developing a capital planning guidance document similar to "Guidance for Incorporating Sea Level Rise into Capital Planning in San Francisco: Assessing Vulnerability and Risk to Support Adaptation" (December 2015).
Outcomes
The main goal for this project is to release a user-friendly, actionable Climate Action and Adaptation Plan that has the support of internal and external stakeholders, and that sets Alameda on a path to building climate resilience. The next step will be to implement the plan and conduct any follow up studies to fill knowledge gaps discovered during the planning process.
Replicability
Three aspects of the project are replicable:
A multi-pronged community outreach process driven by staff, consultant, and community members.
The development of GHG reduction strategies in conjunction with adaptation strategies.
Organization of work to achieve the ambitious goal of completing the plan within a 12-month period.
Further Information
Erin Smith, Deputy Public Works Director: 510-747-7938, esmith@alamedaca.gov