As the field of climate adaptation continues to evolve, so too does our understanding of how to secure investments that support climate adaptation strategies and resilient communities. Many local jurisdictions across California have started incorporating climate change considerations into local planning efforts, however many jurisdictions face significant barriers to implementation due to financing and funding challenges. Given the relative newness of the field of practice, there are a limited number of guidance resources currently available.
In an effort to support this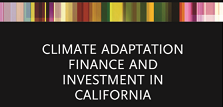 emergent area, the Governor's Office of Planning and Research, through the Integrated Climate Adaptation and Resilience Program (ICARP), developmed a climate adaptation finance book, authored by Jesse M. Keenan from Harvard University. Climate Adpatation Finance and Investment in California is available as both an e-book and as a PDF.

Additionally, research projects funded through California's Fourth Climate Change Assessment provide further insight into the local government barriers to implementation – including financing and funding.
These reports are available at www.ClimateAssessment.ca.gov
State Funding Opportunities

The California Grants Portal (a project by the California State Library) is an access portal to all grants and loans offered on a competitive or first-come basis by California state agencies. Search the portal for program overviews, timelines, application information and guidance, and more at https://www.grants.ca.gov/ .
Other Grant Aggregation Sites
There are a number of grant aggregation sites that provide information on open grant applications from federal and state agencies, as well as philanthropic and private grant makers. Here are a few sites to help you find grants that support a broad array of climate adaptation and mitigation projects and plans.
Funding Wizard

The Funding Wizard, hosted and maintained by the California Air Resources Board, is a searchable database of grants, rebates and incentives to help you find funding opportunities in categories such as energy, air quality and climate change mitigation and adaptation, transportation, urban development, waste management, water and more.

Grants.Gov

Grants.gov is your source to find and apply for federal grants. The US Department of Health and Human Services is the managing partner for this resource.

Uplift

UpLiftCA was created by The Greenlining Institute in partnership with the California Climate Equity Coalition, led by the Asian Pacific Environmental Network, Coalition for Clean Air, The Greenlining Institute, Public Advocates and SCOPE.
All Resources for Investing In Adaptation