Extreme Weather Needs Assessment for Amador and Calaveras Counties
SB1 Adaptation Planning Grant: Initial Case Study
Challenge: Developing plans and strategies
Summary
Amador and Calaveras County, in partnership, received a grant award from the Caltrans Adaptation Planning Grant program to study impacts from Extreme Weather events and prepare Prevention and Response Strategies to mitigate the degree of personal injury and damage to roadways and related infrastructure caused by fire and flooding.
The study will assist the region's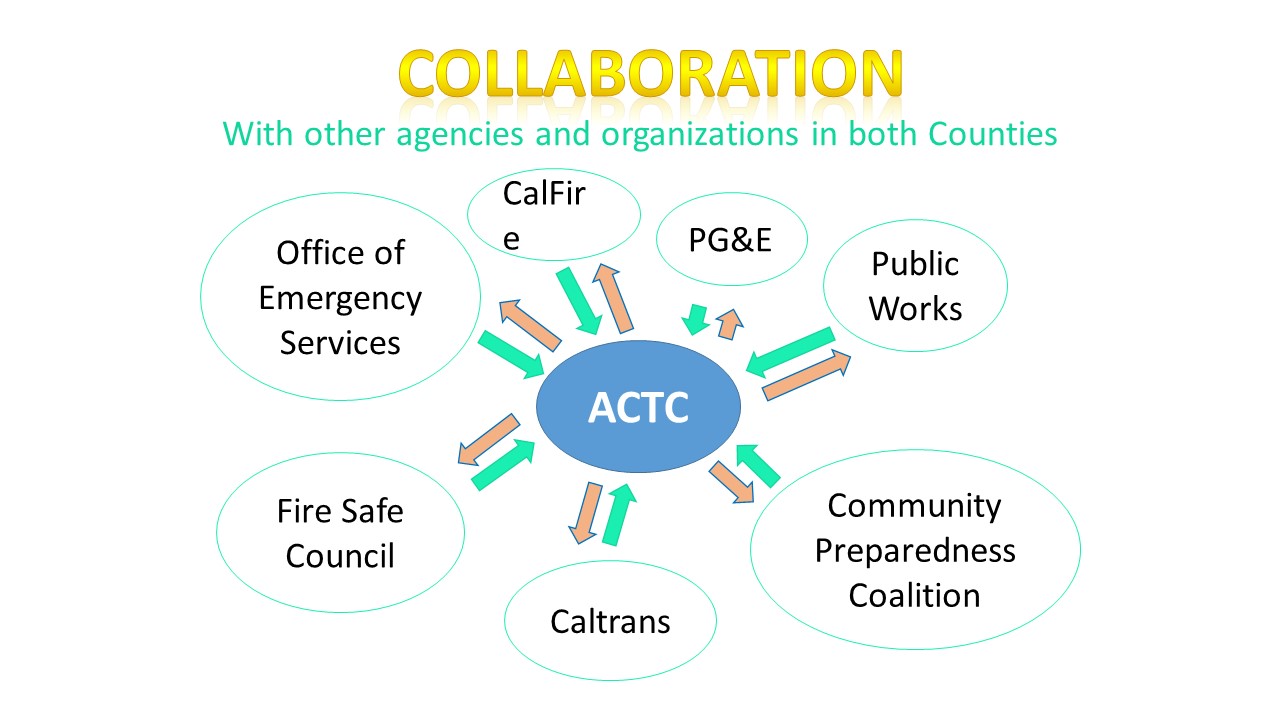 emergency preparedness for extreme weather events especially impacting vulnerable populations. The Project Team issued a Request for Qualifications for consultant assistance in October, 2018. The Project will conclude by March, 2021. The Project Goal is to improve safety, resiliency, and sustainability of roadways in Amador and Calaveras Counties for use in emergency situations and to foster healthy, livable communities by preparing for extreme weather-related risks and minimizing anticipated economic and personal injury.
This regional partnership project advances the Caltrans Mission Statement, Adaptation Grant Program Guidelines and Climate Change Pillars, respectively:
"to provide a safe, sustainable, integrated and efficient transportation system to enhance California's economy and livability."

"to support planning actions at local and regional levels that advance climate change efforts on the transportation system."

'Safeguarding California" - focused on Climate Justice and Emergency Management principles and techniques
This project will deliver a Prevention and Response Report that describes the region's vulnerability to climate change events, identify and prioritize roadway segments at highest risk and recommend improvements to the region's ability to prevent loss and recover from extreme weather events.
Lead Agency and Partnerships
The Amador County Transportation Commission (ACTC) will be the lead agency for this project in partnership with Calaveras Council of Governments (CalCOG). Both agencies will collaborate with both County's Offices of Emergency Services, Public Works Departments and Fire Safe Councils. In addition, the Project Team will coordinate with representatives from Caltrans, CalFire, Pacific Gas & Electric and other affected Stakeholders.
Initial efforts will rely on existing emergency response efforts already underway. The Project will build upon current plans and provide technical resources (such as detailed LiDAR scanning data) as needed. The Project Team will investigate and provide augmentation recommendations based on research into Best Practices for prevention and recovery from major damage.
The key success metric for this Project will be its ability to collaborate among local agencies and community-based organizations to freely share information and advance current emergency planning and response efforts. Stakeholder meetings will bring local knowledge and technical oversight together to coordinate existing data, discuss needs, and develop mapping overlays to better identify and priority high-risk locations.
Drivers
This project is driven by local concern over the increased severity of impacts from heightened fire risk and increased flooding due to extreme weather events. Recent extended drought conditions and increased tree mortality throughout the Sierra foothills has heighted local awareness of dangers from these events. The availability of grant funding through the Caltrans Adaptation Planning Grant program is a welcomed opportunity to address local concerns.
Engagement Process
This project focuses on two major extreme weather events – wildfires and severe winter storms. The Team will identify strategies not only to improve the road network circulation system, but will also work in partnership with both county's Fire Safe Councils to identify roadway improvements that can serve as strategic fire break network improvements.
Severe winter storms and post-fire rain events lead to flooding, erosion, landslides and debris flow that damage roadways. In partnership with County Public Works departments, the Team will identify roadway improvements vulnerable to flooding and extreme weather drainage.
Additionally, foothill communities contend with emergency evacuation challenges due to elderly and low-income residents with physical limitations and limited access to transportation options. The Team will reach out to agencies representing vulnerable populations to ensure recommendations are made to meet their specific needs.
Climate Impact Area
The majority of Amador and Calaveras counties' residents are vulnerable to wildfires. When the oak woodlands and steep chaparral of the Sierra foothills combine with warm, dry summers fires can easily ignite and spread. Many roads in the two (2) counties are narrow and winding - often flanked by dense vegetation. With few alternate routes available, evacuation planning is difficult.
Funding Source
This project received $150,466 in funding from a Caltrans Adaptation Planning Grant.
Research and Data
The Team will enlist consultant support to produce LiDAR digital 3D roadway data for both counties. The Survey will gather vertical, horizontal, and subterranean data along roadway corridors. The information will include: road width, surface type, curvature, shoulder/turnout/turnaround width, vertical vegetative canopy clearance. Subterranean analysis will assist with carbon reduction calculations.
The Team will develop Geographic Information System (GIS) data layers, including fire hazard zone, terrain slope, and roadway characteristics to identify road segments most vulnerable to storms and post-fire burn runoff. In addition, the Team will utilize GIS mapping to identify primary and secondary evacuation route planning.
Finally, the Project Team will make recommendations to improve communication and outreach ensuring residents and visitors are provided with information to protect them from extreme weather threats and given advanced warnings, when needed, for safe evacuation.
Challenges
Due to limited financial resources, rural counties often have inadequate digital data collection capabilities. The Team's challenge will be to locate and obtain accurate data currently maintained by various agencies and integrate these data into a GIS system repository housing all relevant information. Once developed, the Team will share these data with partner agencies.
Further complications are presented by sporadically-available cell phone service and incomplete participation of residents in emergency evacuation notice programs. Expanded outreach via newpaper, radio advertisements, and formal elected official statements are among strategies to be employed to encouraged greater Right-of-Entry participation. For those with limited cell phone coverage, alternative land line phone contact sign-ups and emergency public service warning systems will be reviewed for enhancement options.
Outcomes
The Prevention and Response Report will:
Describe existing roadway conditions

Identify roadway segments vulnerable to extreme weather events

Recommend needed upgrades to road networks to enhance resiliency

Identify prevention strategies and mitigation treatments

Quantify direct and indirect costs

Recommend enhanced communication and outreach strategies
Replicability
This work will be made available to any jurisdictions seeking to address impacts arising from extreme wildfire and severe winter storms.
Further Information
Questions may be directed to:
John Gedney
ACTC
117 Valley View Way
Sutter Creek CA 95685
(209) 267-2282