Sea Level Rise Adaptation Plan for Humboldt Bay Transportation Infrastructure
SB1 Adaptation Planning Grant: Initial Case Study
Challenge: Developing plans and strategies
Summary
The County of Humboldt, in collaboration with the City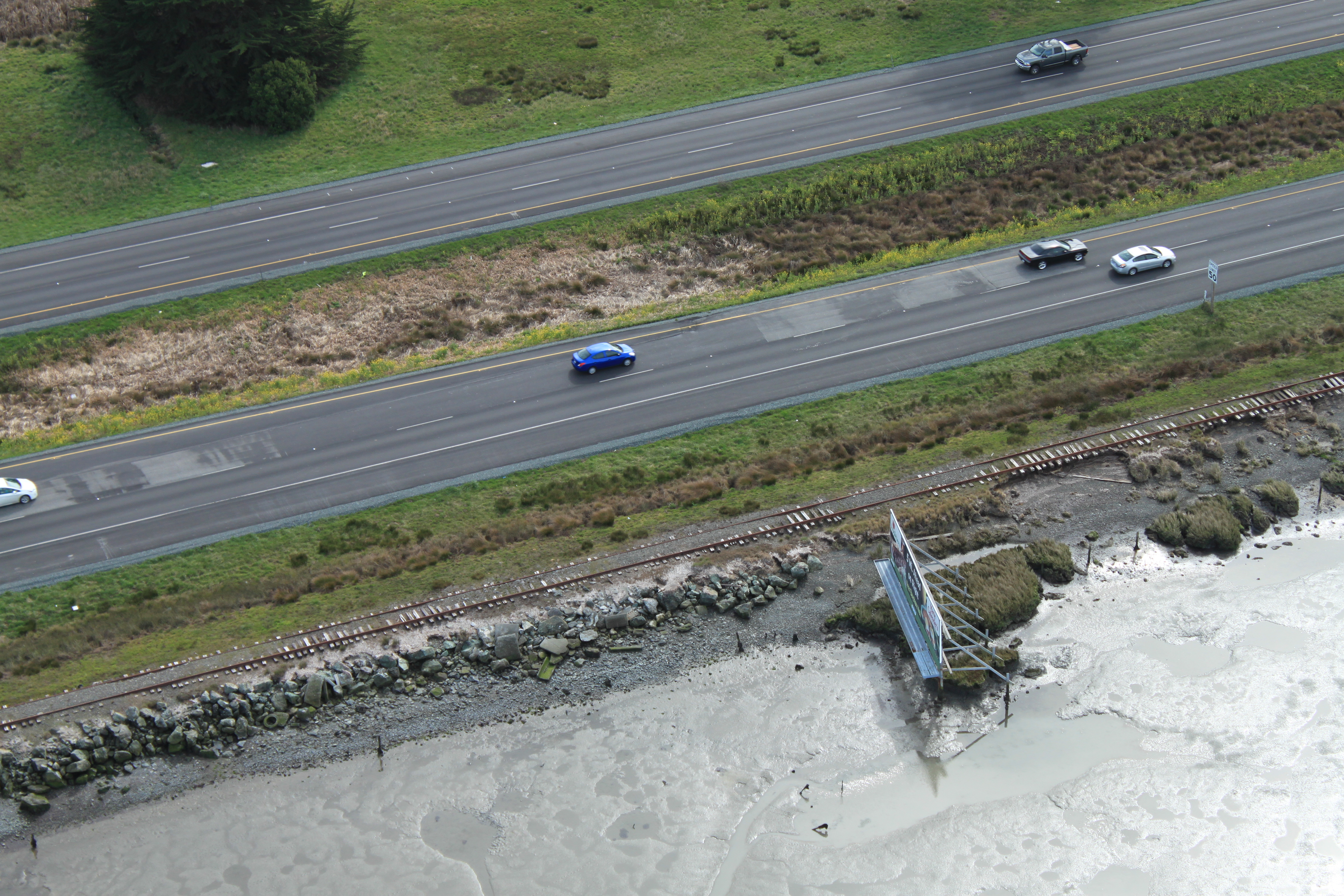 of Eureka and Humboldt County Association of Governments (HCAOG), will develop an Adaptation Plan to address flooding hazards associated with sea level rise in one of the most vulnerable sub-watersheds of Humboldt Bay. Work on this project will commence in January 2019 and be completed by June 2020. Overall project objectives include:
Build relationships and an organizing framework for advancing collaborative efforts among public and private landowners at a regional scale

Improve the collective understanding of risks to transportation infrastructure from flooding and inundation hazards associated with sea level rise in Humboldt Bay

Identify vulnerable populations and the interests of affected landowners and stakeholders, including non-transportation infrastructure (water, natural gas, electricity) and agriculture

Identify feasible conceptual designs that protect infrastructure and are compatible with adjacent land, and develop an implementation strategy

Develop tools for evaluating the costs and benefits of investing in adaptation projects

Establish a methodology for developing adaptation plans that can be applied in other discrete watershed basins around the perimeter of Humboldt Bay
The final deliverable will be an Adaptation Plan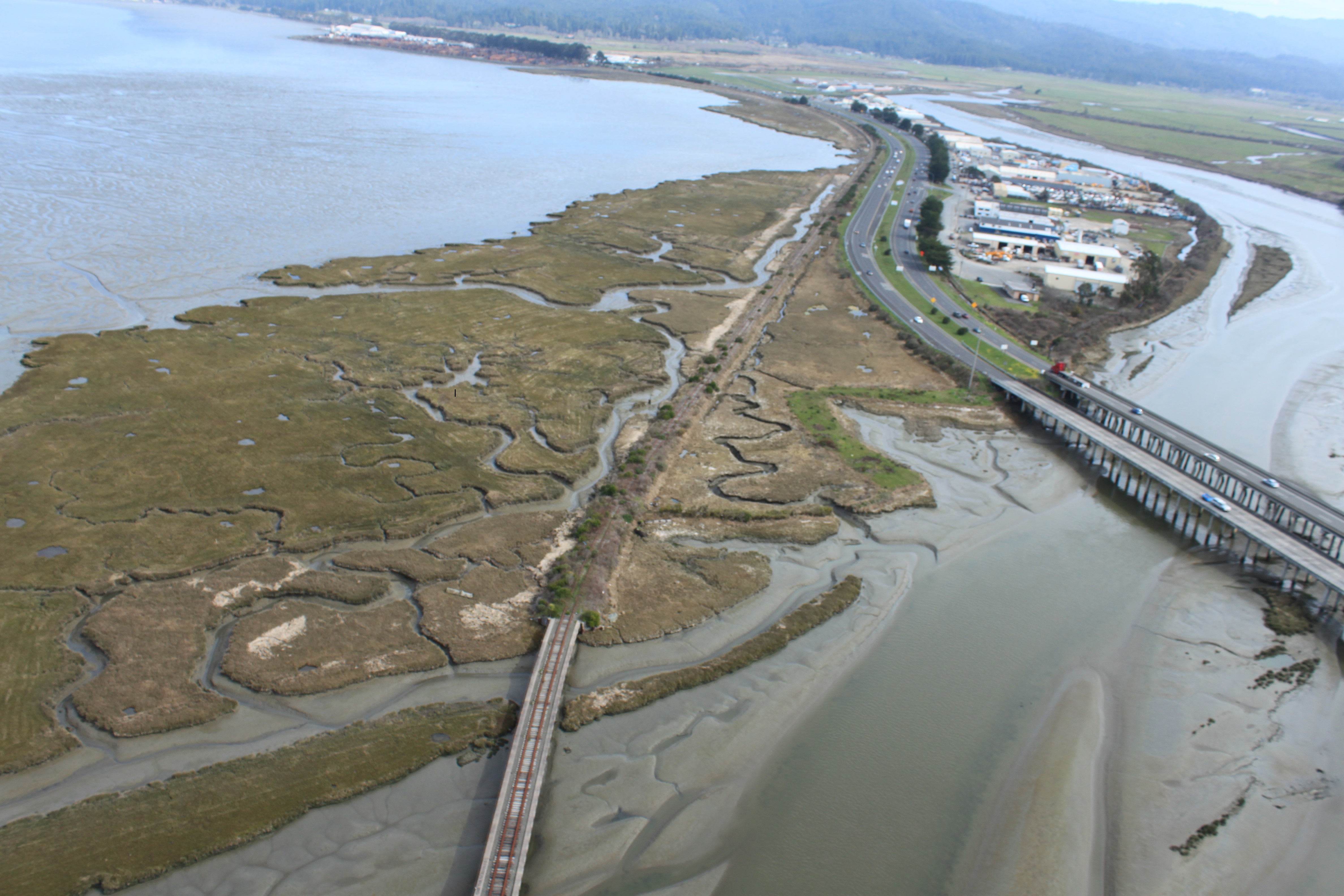 with an emphasis on stakeholder engagement, multi-benefit goals, best available scientific information, context-sensitive solutions, cost-effectiveness, and strategic planning. Innovative elements of the project include: evaluating the geomorphic setting and specific physical processes that are most likely to cause impacts; identifying a range of hazard scenarios and accounting for wind waves; performing a detailed evaluation of the range of potential impacts and consequences; and developing a tool for analyzing benefits and costs of adaptation projects. In addition, innovative project design concepts will be necessary to consider ecosystem values and comply with applicable laws and regulations. The plan will provide a model for interagency and public-private collaboration to address sea level rise impacts for other areas along Humboldt Bay and potentially other coastal areas.
Lead Agency and Partnerships
The County of Humboldt will serve as the lead agency with collaborative and financial partnership from the City of Eureka and HCAOG. The County will retain consultants for technical assistance. Other collaborative partners include Caltrans District 1, Pacific Gas & Electric (PG&E), North Coast Railroad Authority, the Humboldt Bay Harbor District, California Department of Fish and Wildlife, and business owners and private landowners within the study area. These entities manage property and/or infrastructure within the study area and have a vested interest in planning for the potential impacts of sea level rise. In addition, the Humboldt County Farm Bureau has been invited to help represent the interests of private agricultural landowners.
Drivers
The project's main drivers include:
The Humboldt Bay Sea Level Rise Adaptation Planning Project (2010-2015) provided general information on the vulnerability of the study area. The study area was noted for the concentration of multi-modal transportation and non-transportation infrastructure, as well as the elevated vulnerability due to

ground surface elevations, exposure to wind waves, and the condition of levees and embankments.

The project area includes the majority of the Eureka-Arcata transportation corridor (Highway 101, railroad, Humboldt Bay Trail) which connects the two largest urban areas in Humboldt County.

The project will fill existing gaps in information and understanding that need to be addressed prior to designing and prioritizing feasible adaptation projects. To date, there has been limited effort developing design concepts for Humboldt Bay. There has also been limited coordination with public and private entities to evaluate specific adaptation project concepts.

This high-priority project was a strong fit for the funding opportunity presented by the Caltrans Adaptation Planning Grant Program and Senate Bill 1 (Road Repair and Accountability Act of 2017).
Engagement

Process
The project area spans multiple jurisdictions and ownerships, encompassing vital infrastructure including Highway 101, county and city roads, railroad, Humboldt Bay Trail, Murray Field airport, underground natural gas transmission lines, overhead electric transmission lines, underground water pipelines, and wastewater pump stations. The project area also includes businesses, agricultural lands, wildlife lands and residential areas for economically disadvantaged communities.
Key stakeholders include property owners and organizations serving disadvantaged and/or transit-dependent community members. Property owners include managers of transportation facilities, utilities, and wildlife areas; agricultural landowners; and other business and property owners. Key organizations serving disadvantaged community members include Humboldt Transit Authority, Eureka Transit Service, Tri-County Independent Living, and the HCAOG Social Services Technical Advisory Committee.
The County of Humboldt will meet with participating stakeholders either as groups or individually based on their preference. The stakeholder engagement approach will emphasize understanding the stakeholder's short-term and long-term goals and priorities, identifying known areas of concern, and inviting ideas on potential adaptation measures. The project will include: preliminary engagement to ensure a thorough sharing of information and agreement on project approach; check-ins near the middle of the project to present preliminary findings and gather feedback for continued project work; and presentation of the draft results for final input prior to completion.
Two community workshops (May 2019 and April 2020) are planned for outreach with the general public. The public will be invited to assist in developing the guiding principles for the adaptation plan and identifying potential consequences to the transportation system and affected communities from various hazard scenarios.
The City of Eureka is considered an economically disadvantaged community based on median household income (MHI). The City of Eureka has a MHI of $39,063, which is 61% of the state-wide average of $63,783 (U.S. Census Bureau, 2012-2016 data). The census tracts within the project area include northeastern Eureka with a MHI less than 42% of the statewide median, and the Myrtletown area with a MHI of 90% of the statewide median (2016 American Community Survey). Transit-dependent populations rely on public transportation routes through the project area. A recent survey conducted for the Eureka Transit System (ETS) found that 76% of ETS rider survey respondents had an annual income of less than $25,000. Outreach for the first community workshop will target disadvantaged populations of northeastern Eureka, including residents of the Jacobs Avenue neighborhood and the Shoreline RV Park, and transit-dependent residents.
Climate

Impact

Area
The project will address areas vulnerable to temporary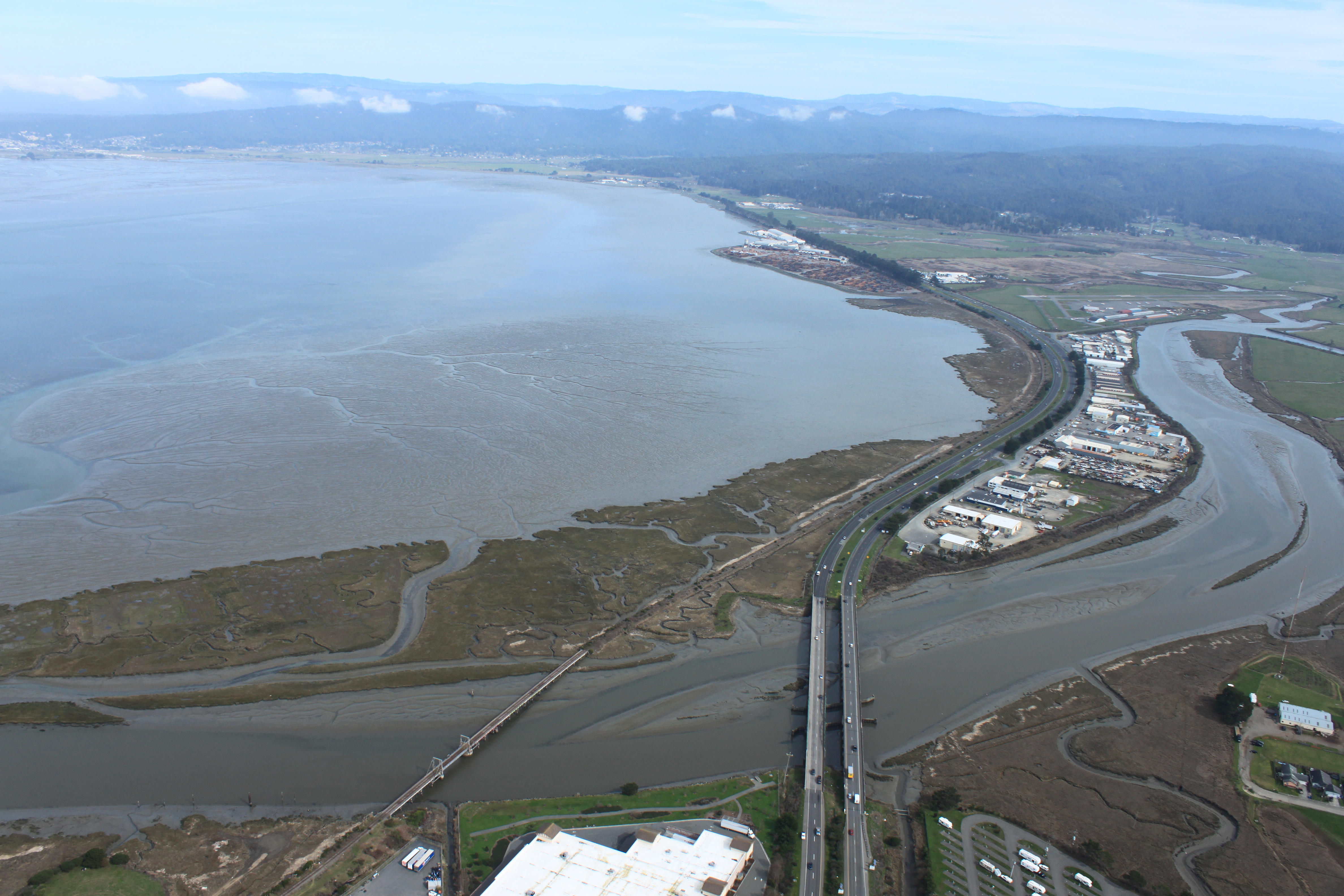 flooding and permanent inundation for existing conditions and multiple sea level rise scenarios. The project will investigate the geomorphic setting to understand how the waters of Humboldt Bay interact with shoreline features, the adjacent floodplain, and associated infrastructure and development. The vulnerability assessment portion of the project includes identifying indicators for monitoring changing conditions of shoreline structures over time. An inspection protocol will be developed and demonstrated by inspecting a minimum of two miles of shoreline or levee.
The sensitivity of infrastructure assets to sea level rise impacts will be assessed. Impacts could include dangerous conditions, functional disruption, minor physical effects (requiring cleanup), damage (requiring repair), or failure/loss (requiring reconstruction). The risk assessment portion of the project will assess the potential consequences resulting from sea level rise impacts, such as disruption of critical services (e.g., transportation and utility services), social consequences (e.g., impacts to public health and safety), and economic and financial consequences.
The Adaption Plan will identify project concepts to address the assets which are most at-risk. A range of intervention options will be considered including accommodation, protection (with natural or engineered features), and retreat. Innovative physical strategies such as natural infrastructure and multi-objective design objectives will be incorporated to the extent possible.
Funding

Source
This project is funded by a Caltrans Adaptation Planning Grant awarded to the County of Humboldt for $425,000; with local match of $55,063 from the City of Eureka and HCAOG. The total project budget is $480,630.
Research

and

Data
Data tools and resources include:
Humboldt Bay Shoreline Inventory, Mapping and Sea Level Rise Vulnerability Assessment (Laird et al. 2013)

FEMA Open Pacific Coast Study – Nearshore Hydraulics, Humboldt County, California (FEMA 2014)

Caltrans District 1 Climate Change Vulnerability Assessment (Caltrans 2014)

Humboldt Bay Sea Level Rise Adaptation Planning Project, Phase 2 Report (Laird 2015)

Humboldt Bay Sea Level Rise, Hydrodynamic Modeling, and Inundation Mapping (NHE 2015)

Jacobs Avenue Levee Bathymetric, Hydrologic and Hydraulic Study (NHE 2016)

Humboldt County, Humboldt Bay Area Plan Sea Level Rise Vulnerability Assessment (Laird 2018)

Humboldt Bay Trail South Sea Level Rise Vulnerability and Adaptation Report (ESA 2018)
Challenges
The potential size, magnitude, and cost of sea level rise adaptation projects are major challenges. To be effective, projects will likely need to span multiple ownerships and will have unavoidable impacts to sensitive habitat and protected resources. There is significant uncertainty whether such projects will be feasible based on technical, economic, land ownership, and environmental permitting factors. This project applies several innovative approaches to determine if moderate- to large-scale adaptation projects around Humboldt Bay are feasible and, if so, to identify the critical elements for success.
Outcomes
The outcome of the project will be an Adaptation Plan with viable project concepts for the project area, providing a model for interagency and public-private collaboration to address sea level rise impacts for other areas along Humboldt Bay. Possible next steps following completion include acquiring funding for design and implementation of the priority projects identified in the plan, and developing a formal organizational structure for implementing such projects.
Replicability
The methodology for developing an Adaptation Plan based on landscape-based analysis and project development informed by robust stakeholder engagement can be applied in other sub-watersheds around Humboldt Bay and could be replicated for other coastal communities with similar challenges.
Additional Resources
Link to project website: https://humboldtgov.org/1428/Water-Management
Data tools and resources include:
Further

Information
Hank Seemann, Deputy-Director
Humboldt County Public Works
hseemann@co.humboldt.ca.us, (707) 445-7741