Tools & Data
Explore Tools, Data, & Scientific Studies
Explore Tools, Data, & Scientific Studies
Learn about key state resources and explore the database of all Tools, Data, and Scientific Studies on the Adaptation Clearinghouse below. For guidance on how to use tools, data, and scientific research in adaptation planning, explore the Adaptation Planning Guide. Tools can also be explored and compared on the Find a Tool page.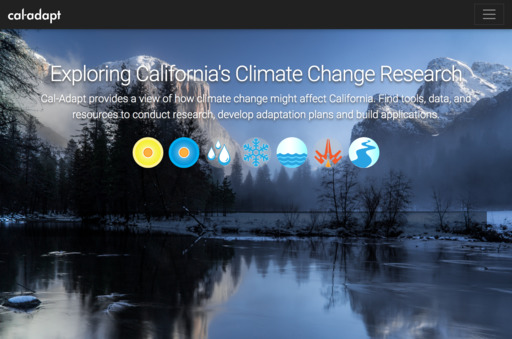 Projecting Future Climate: Cal-Adapt
Due to the changes California faces, it is critical for practitioners to have access to down-scaled climate projections and information for local adaptation planning. Since 2011, the State has funded the web-based tool Cal-Adapt, designed to meet this need by providing access to the wealth of data and information produced by California's research community. The data available on Cal-Adapt offers a view of how climate change might affect California at the local level. Here practitioners can work with visualization tools, access and download data, and participate in community sharing to build individual and communal knowledge.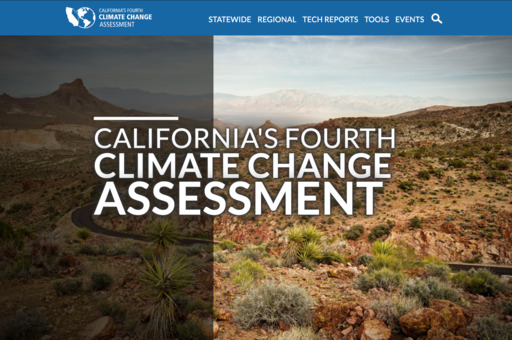 Climate Change Research Assessments
The state regularly invests in comprehensive assessments to evaluate the impacts and risks from climate change and to identify potential solutions to inform state policy. Since 2006 the State has funded four assessments. The Fourth Climate Change Assessment advances actionable science to serve the evolving needs of state and local decision-makers from a variety of sectors. Published in 2018, the Fourth Assessment has four statewide reports, nine regional reports with downscaled impacts, 51 technical reports, and six unique tools designed to support adaptation practitioners.
Additional Statewide Resources
OEHHA Climate Change Indicators: The Office of Environmental Health Hazard Assessment (OEHHA) researches and presents indicators in periodic reports describing how California's climate is changing and how these changes are affecting the state.
CA@50 Million: The Office of Planning and Research (OPR) hosts indicators on this site to provide a snapshot of how California is doing across a series of environmental measures.
Search Adaptation Clearinghouse Database
Find all resources tagged as Tools, Data, and Scientific Studies in the Adaptation Clearinghouse Database.